CoCo (See More Info Below)

Maurice (See More Info Below)

Ralph (See More Info Below)

Snooker (See More Info Below)

Skip (See More Info Below)

Bandit

(See More Info Below)

Sweetie Pie

(See More Info Below)

Leah & Duke

(See More Info Below)
Some of our wonderful pets looking for forever homes.
We have some awesome dogs for adoption and would love to help you find your perfect companion. If there is a dog on our site that interests you, the first step is to put in an

application here

and let us know you are interested in a certain dog on your application.


You can also email us at

rambini427@gmail.com

for more information on a particular dog you are interested in.


As always our dogs are placed not on a first come first serve basis, but based on who is the best fit for the dog. It may take some time to go through all of the applications, so we appreciate your patience. A reminder that we do conduct home visits and therefore applicants must live within 50 mile radius of Albany, NY.


Thank you for helping us make these wonderful animals wag their tails in joy.


- Good Shepherd K9 Rescuece
Male Hound, 65 pounds, 5 yrs old:
Do you have a soft spot for the
classic hound
- one with a keen intellect and a
gorgeous stateliness
? Meet Maurice. He just does not take a bad photo - prepare to blow up your social media posts with his smiling face. He came to us from the south and was heartworm positive when we rescued him - he has been treated for that and is negative and in
PERFECT HEALTH
- woot! He adores walking around the yard - finding that perfect spot under the shade tree to observe the world. He is
fine with other dogs
and enjoys playing bow with them, but would be just as content as your sole furfriend. He has a fun floppy run that looks kind of silly when he is jacked up full of fun.
He is crate trained and is quiet in it.
We can not quarantee he is 100% house trained - he will go to the door when he wants to potty, but if you are not paying attention, he mights still have an accident. He would thrive in a house that would give him exercise in sight or smell tracking, but he is flexible and accepting of most environments. Like all hounds a larger backyard is best with a physical fence.
Medical: Up to date with vaccines and neutered.
Male Chihuahua Mix Puppy, 5 pounds, 1.5 months:
Do you want more pictures of this cutie little Coco Puff? - so do we! Our foster could not bear to put this little charmer down to do so - lol. Coco is a
very, very friendly dog
who will want to be by your side and will mewl sweetly to get you to
pick him up.
Despite being a puppy - he is actually a
low-energy chill dude.
Of course, he is still developing his personality; a good furparent should train him and socialize him early to maintain the sweetly accepting personality that he currently has. Chihuahuas can make very good family dogs who are very loyal and good alert dogs.
Medical: healthy and
will need to be neutered when 6-7 months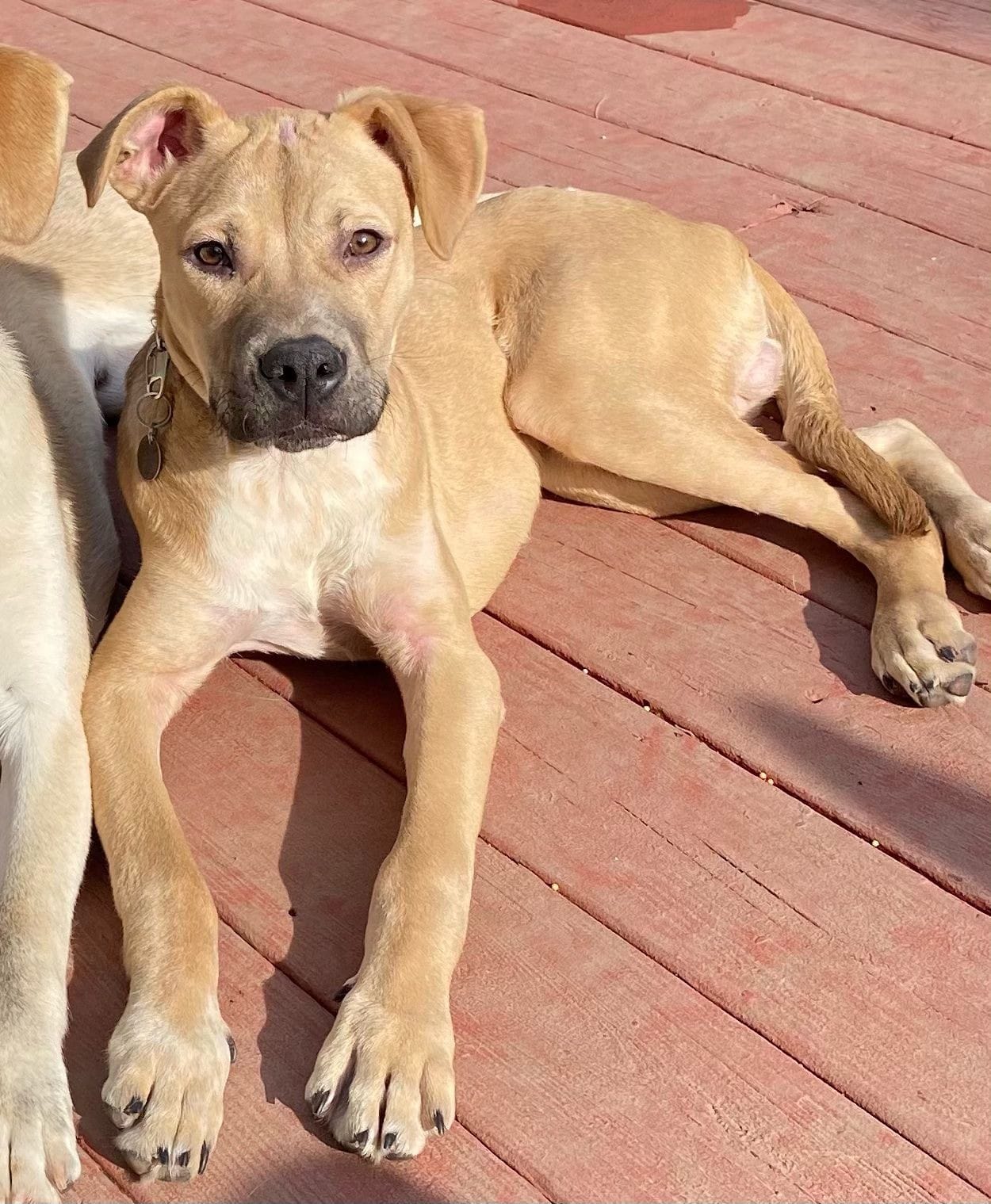 Male Black Mouth Cur and Lab Mix, currently 35 pounds, 6 months:
Ralph the Rascal is his current nickname. This
playful pup
loves to run with other dogs and play with toys. Okay - he is your typical puppy, but we have a feeling he will mature into a well-mannored bright young man with some training. He is absolutely handsome with his
super soft sleek fur
and infectious grin. His breed is an all-around
working dog who is a loyal family dog
. His high energy though is
not well suited for small children
. Will
require a physical fence
- please do not apply if you do not have a fence or the ability to put up a fence before adoption. Currently crate trained.
Medical: Up to date with vaccines and will be neutered at 7 months.
Male German Shepherd Mix, 74 lbs, 9 months:
You know how we have a soft spot for those lovely German Shepherds. Snooker is a
crazy big boy with lots of pulling power
. Like many German Shepherds, Snookers is a dog who wants to learn and is easily trained - a dog who thrives being given a task. He is currently being house and leash trained. He will no doubt be a loyal companion. Because he is a powerful dog -
NOT AGGRESSIVE
- he will be adopted only to those with
experience with larger dogs
and the willingness to train him. He loves playing with other dogs and is friendly in the pack. No small children.
Medical: Up to date with vaccines and neutered.
Young Male Jack Russell Terrier, ca. 15 pounds, approximately 1 year
This young guy is filled with typical Jack Russell
energy and fun.
He is excited and enjoys romping with other dogs - although at times dog selective. If you have another pup, we will do a meet-and-greet to assure their compatibility.
Super smart and observant,
so will be
easy to train
(anyone say agility????) He is all around fun and endlessly amusing - and we believe would make a good family dog, as long as younger children are introduced to how to interact with dogs. At his fosters he is a quiet, devoted dog. We are looking to place him in a home that is an active one that understands the breed - Jack Russells need an active job and physical and mental stimulation. As they are prey driven,
a physical fence is a must .
Medical: current with vaccines and heartworm negative , neutered.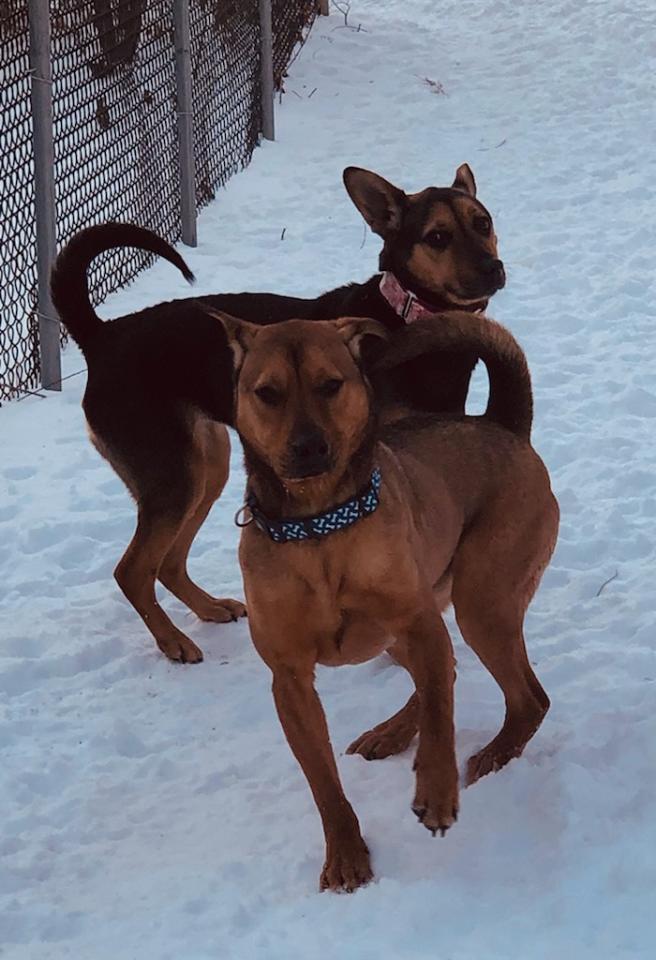 Adult Male and Female German Shepherd Hound Mix, ca. 60 pounds, 3 yr old:
Sad story, but hopefully one that you can provide a happy ending to. Duke and Leah are
siblings
- they were adopted as 8 week old pups and recently returned to our shelter, through no fault of their own. Their family's situation changed and they sadly were no longer able to care for them. These two pups are somewhat
shy at first
, but when they get used to you, their playful side will come out. They
love romping and wrestling
with each other or other members of our pack. They are very consciousous house pets -
not destructive, crate and house trained
. While they
do not have to be adopted together
, we will give prefernce to those interested in adopting this brother and sister together. They will make great companion dogs especially for active individuals - while they may need some leash training and some patience, they should be good hikers and walkers . They will proably be good for older children, but may be too large for toddlers or infants. They have not been cat tested. As they are shy, a physical fence is a must.
Medical: Both dogs are very healthy, current with vaccines and heartworm negative . Neutered and spayed.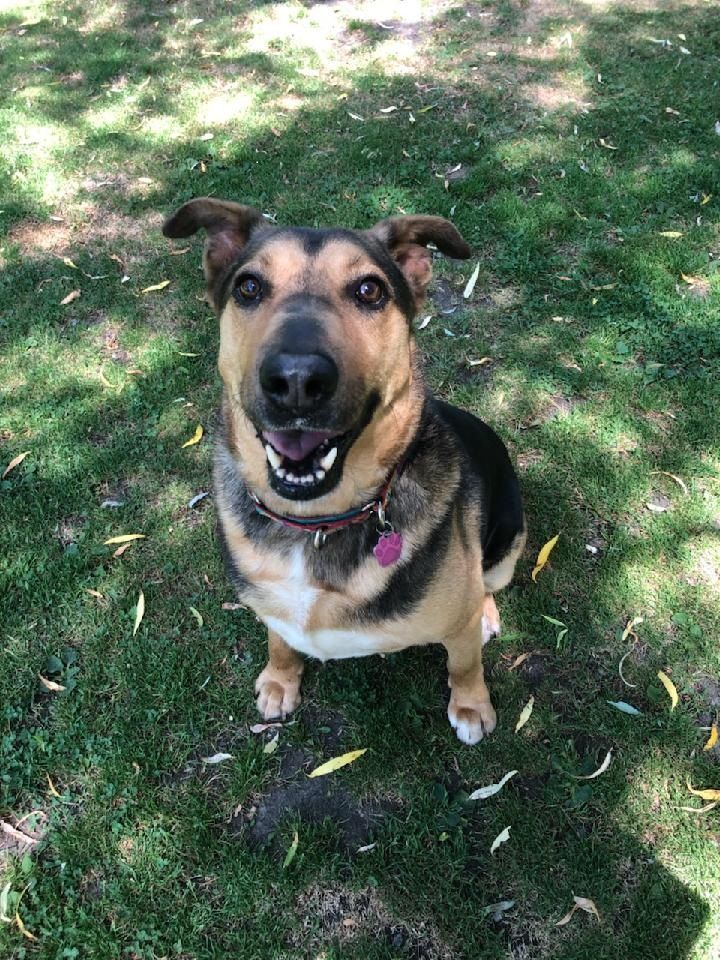 Adult Male German Shepherd Mix, ca. 60 pounds, approximately 5-6 yrs old:
Well - we are called Good Shepherd for a reason - this good boy is for all of you sherpherd lovers. Due to past abuse, he will be adopted to only experienced handlers. Bandit is a gorgeous, healthy, and loyal German Shepherd mix. He is
not a family dog and would be best in a home without other animals or children
. He has been
working on trust issues
with his foster and has come a long way to socializing with others. With his foster mom he
loves to play ball and is so joyful
,
but when strangers come - he is on the alert and is unpredictable.
He would need a physical fence - please do not apply if you do not have a fence.
We would be happy to have a conversation with you about this deserving pup to see if you would be a good match. We know that there is a person out there who is patient and kind who will give this boy the home that he was denied earlier in life!
Medical: Bandit is current with vaccines, heartworm/Lyme negative and neutered.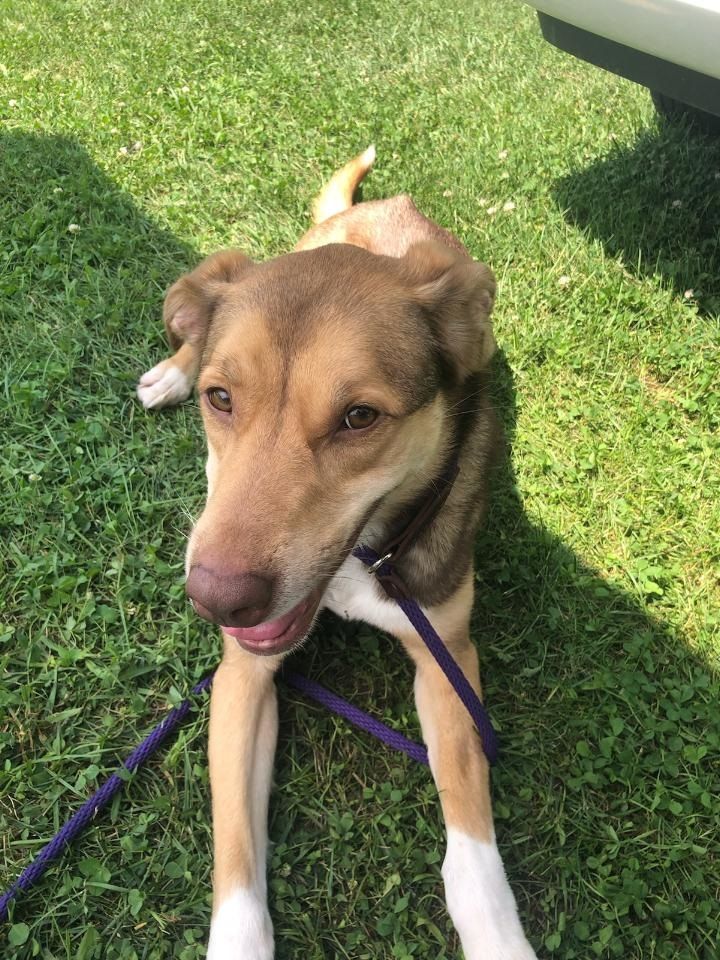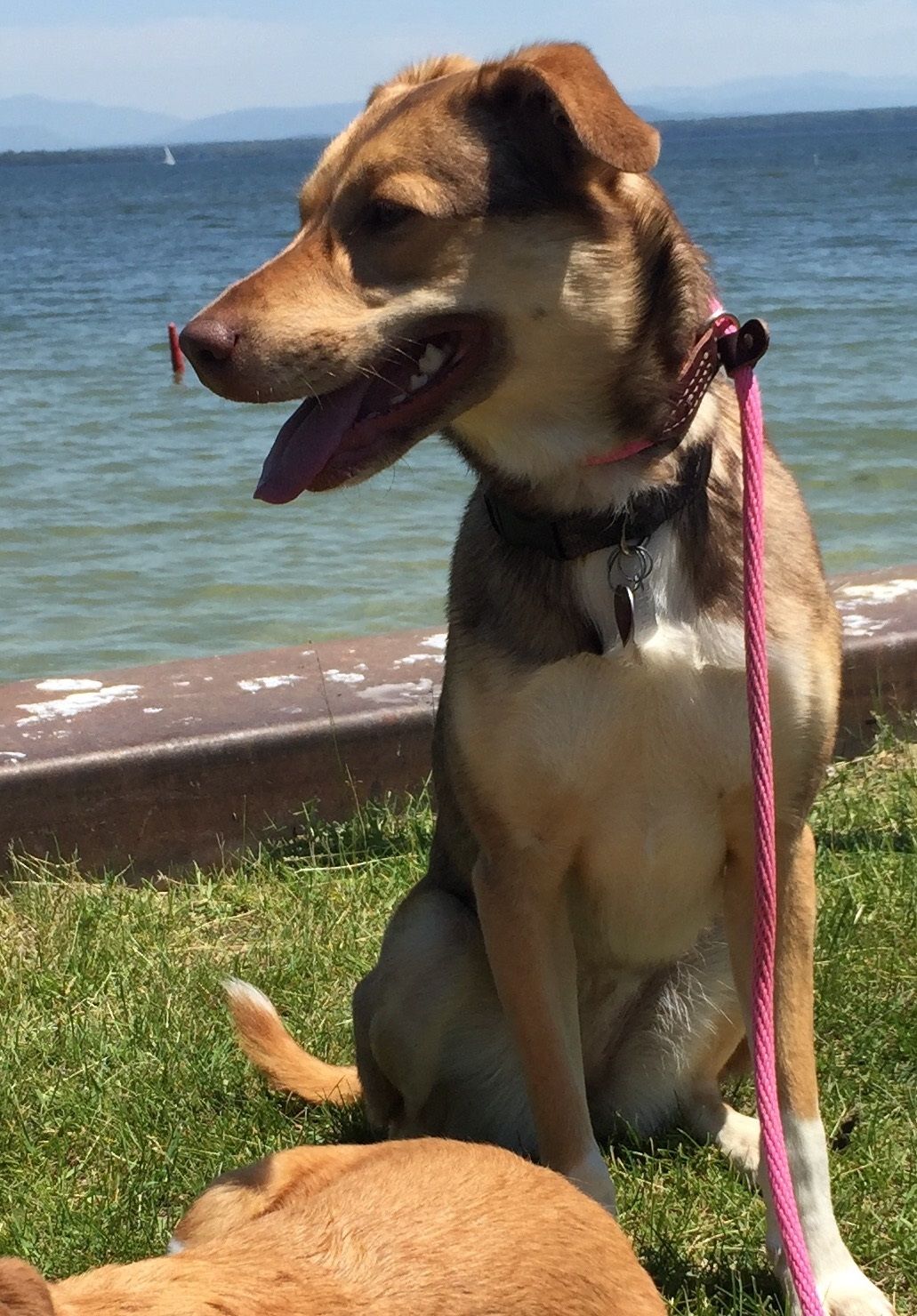 Adult Female Husky Mix, ca. 44 pounds, approximately 6 yrs old:
One look into her soft chocolate brown eyes and you will melt for her. Despite her six years, Sweetie i
s best described as an exuberant puppy
. She does not act, look or resemble a dog over 2 yrs old. Expect
zoomies
when she is first out of crate. She is crate trained. She is
quite clever and has some agility
and obedience training. Sweetie will want to be where you are ... or where the food is. Sweetie is a great dog but
very jealous of other animals
- She wants to be your
constant companion
. Due to her love of running, a
fence is a must.
Medical: Sweetie is current with vaccines, heartworm/Lyme negative and spayed.